内画鼻烟壶,中国特色传统手工艺品。
The inside-painted snuff bottle is a handicraft with elements from Chinese traditions.
17世纪,鼻烟流行于欧洲,明末清初传入中国,当时的容器主要是鼻烟盒,随后才有了独具中国风格的鼻烟壶,以水晶、琉璃、琥珀等材质居多。如今,人们嗜用鼻烟的习惯几近绝迹,但鼻烟壶却作为一种精美、袖珍的艺术品流传下来,关键因素就是内画艺术。
Snuff was popular in Europe in the 17th century. It was introduced in China in the late Ming Dynasty and early Qing Dynasty. At that time, snuff bottles mainly acted as containers for smokeless tobacco. In Chinese hands, however, they turned into delicate expressions of art. Artists used see-through materials such as crystal, glass and amber to paint them from the inside. Today, snuff as a habit is all but gone in the country, yet snuff bottles are prized as exquisite souvenirs and collectors' items. It is the inside painting technique that has lent the pocket art such popularity.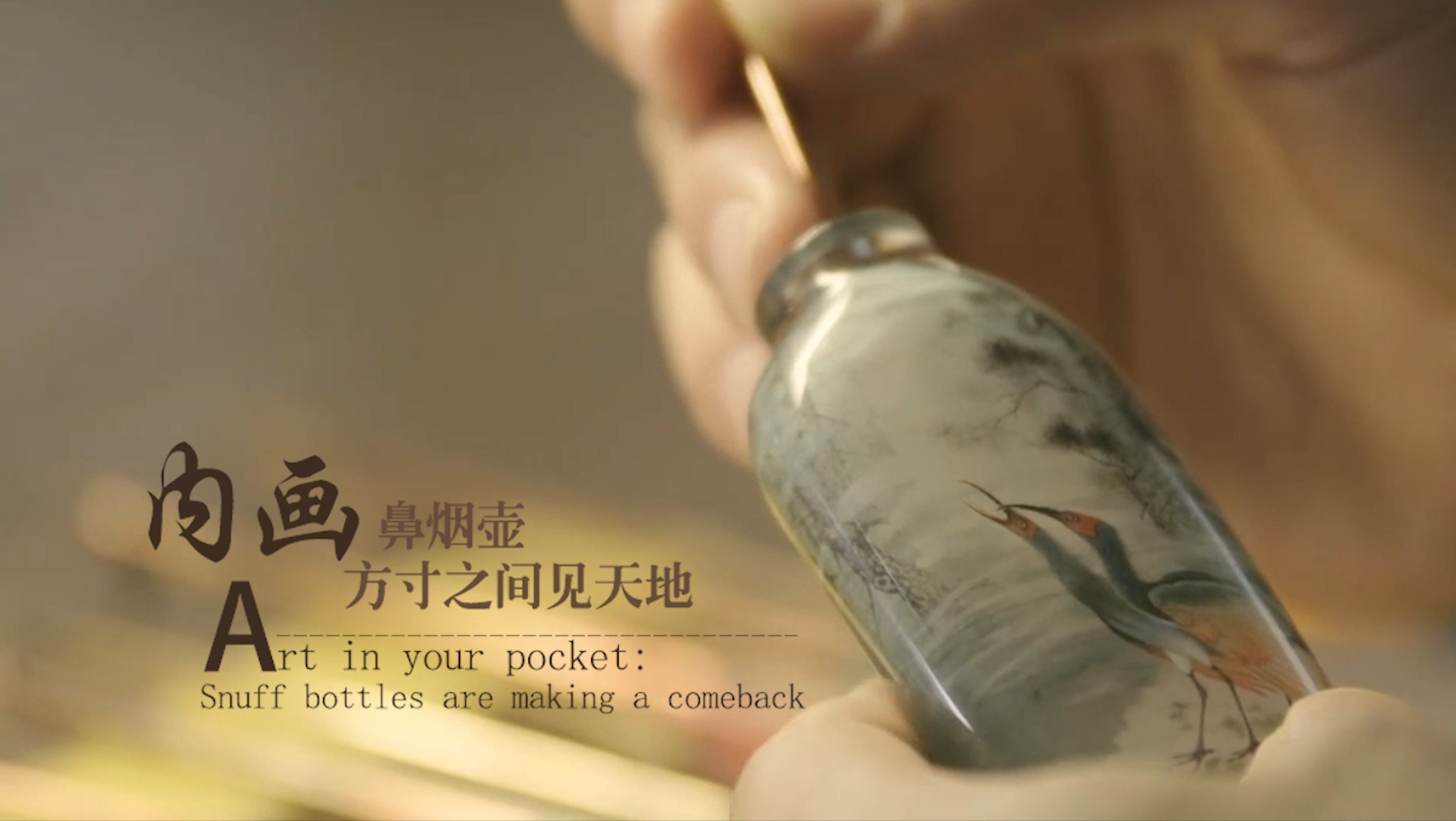 内画有别于外画,其一,作画顺序相反,内壁要反着书画;其二,绘画角度单一,只能在壶口入笔作画,壶口小限制操作,作画时又不容易看到笔的位置,所以非常考验内画大师的艺术功底。(字幕:内画——国家级非物质文化遗产)
Inside painting is different from painting on the outside. To begin with, the entire procedure is in reverse. First, the brush has to move in opposite direction of the painter's sight. The other challenge is the narrow opening of the bottles, it requires special brushes. For the artist, it is difficult to see the position of the pen while painting, so it is a true test of one's artistic ability and patience. (subtitle: Inside Painting - National Intangible Cultural Heritage)
艺术家作画时,要凝神静气,将力道完全集中在手腕之上。最重要的是,落笔无悔,要求一次完成,不然一个小小的瑕疵都可能导致整个作品从头再来。
When an artist paints, he should keep his breath steady and wrist strong. The most important thing is to paint without errors. One wrong stroke will result in the rinsing of the entire work and the artist has to start from the beginning again.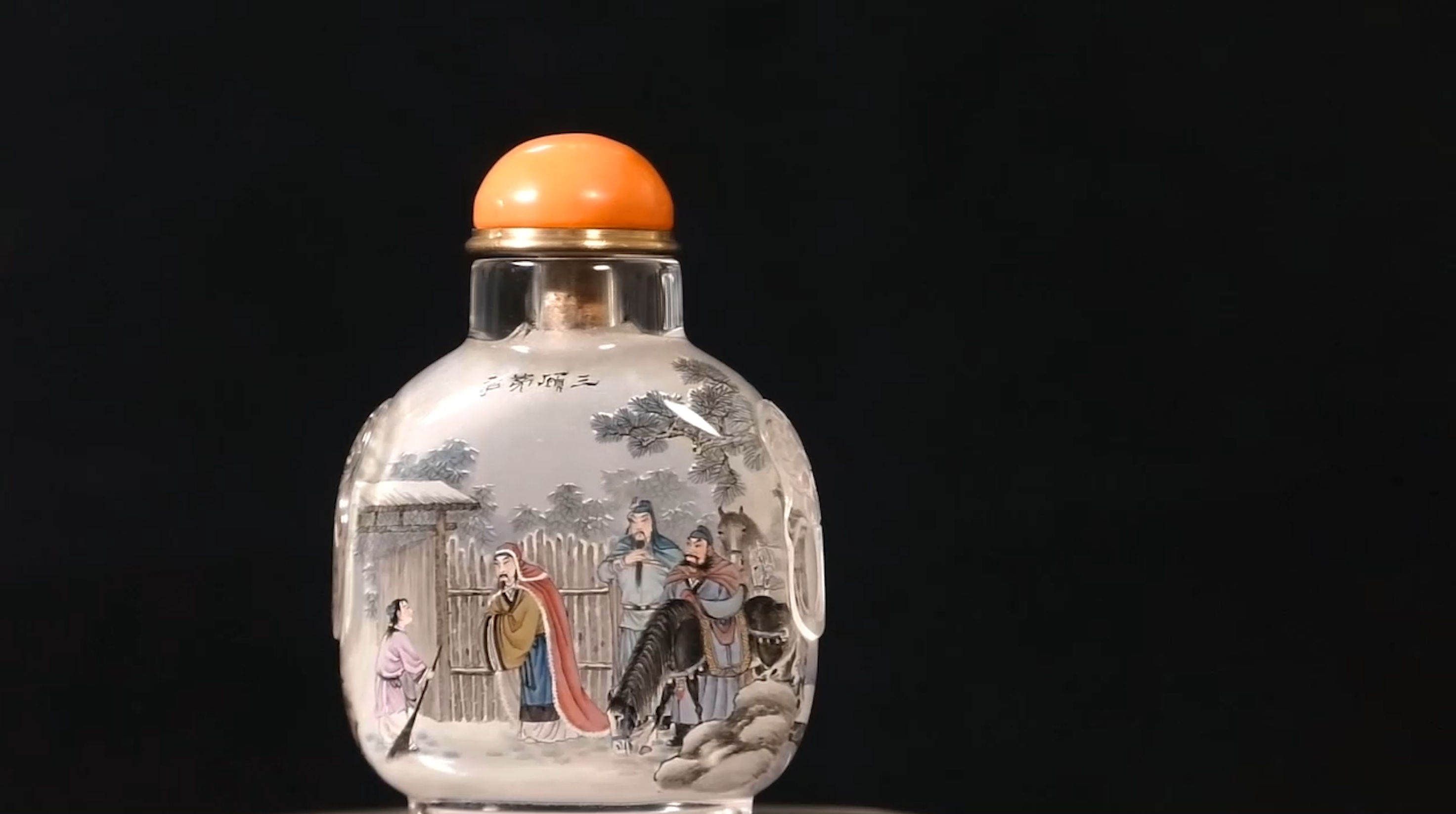 鼻烟壶内画以中国画为基础,承袭了国画的精髓,中国故事、中国山水、中国人文……在鼻烟壶的方寸之间展现得淋漓尽致。其中被大众熟知的京派鼻烟壶历史最久远,后期延伸出冀派、鲁派、粤派等各具特色的几大流派。
Snuff bottle inside painting borrows from traditional Chinese painting and depicts the same elements of Chinese folktales, Chinese landscape, humanities and culture. The Beijing school snuff bottle has had a long tradition and enjoys immense popularity. Today Hebei school, Shandong school, Guangdong school etc have given the art their own unique touch.
京派大师一般文学艺术修养较高,多以传统题材、历史故事为主,用色古朴,结构严谨,给人以高雅独特的艺术享受;冀派以人物肖像见长,形神兼备,特别是婴戏图和百子图最能反映冀派内画鼻烟壶的艺术特点;鲁派最有特色的是能够利用瓷器上用的釉彩作画,然后,烘烧形成内画鼻烟壶的瓷釉画,即使盛水画面也毫不受损;目前,最年轻的派系当属粤派,以艳丽的色彩和装饰风格著称于世。
Beijing school masters generally have high literary and artistic skills. They mainly focus on traditional themes and historical stories. They use simple colors with rigor, providing elegant and unique artistic enjoyment. Portraits are the defining characteristic of the Hebei school. In particular, they portray babies. The most distinctive feature of the Shandong school is that it uses glaze color on porcelain to draw, and then bakes it to form the enamel painting of snuff bottle, which won't get damaged easily, it can withstand water as well. The youngest school is the Guangdong faction, famous for its gorgeous colors and decorative styles.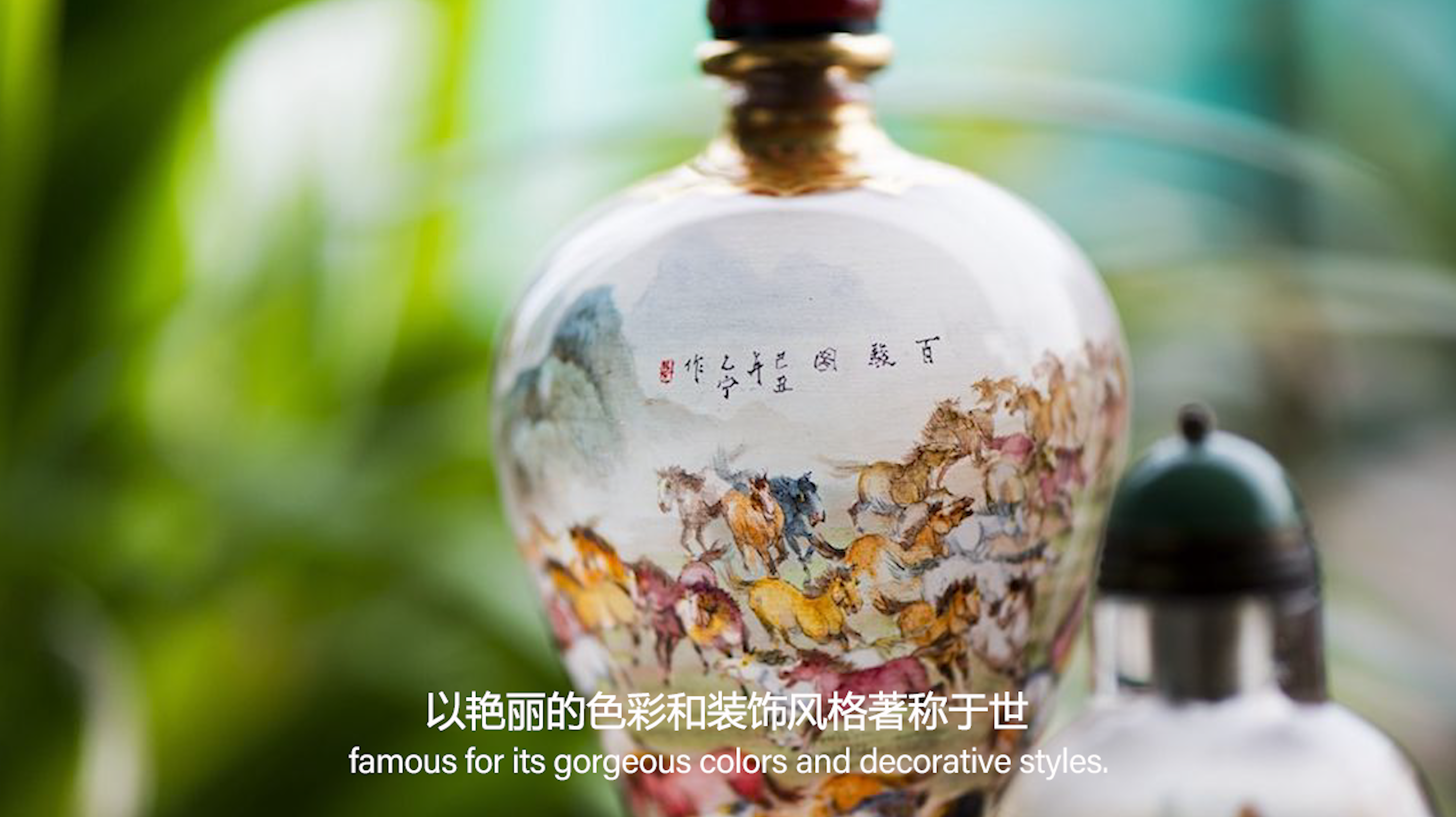 一支笔、一把壶,方寸之间藏着万千景象,凝聚着中国艺术的匠人精神和魅力创意。如今,在鼻烟壶爱好者们分享的视频里,还出现了玛丽莲·梦露、邓布利多,海外网友更觉得亲切,用不同语言表达着惊叹和赞美。
Each square inch of a snuff bottle hides the painstaking labour that goes into it. It's the craftsman's spirit and charm of the Chinese art that are visible in the finished product. Fancy a snuff bottle with Hollywood icon Marilyn Monroe on it? How about Dumbledore, the gentle headmaster of the Potter-verse? A heady mix of pop culture and art is taking the snuff bottle universe by storm and expanding its popularity online.
.