影视剧中,我们常见到古代欧洲人用羽毛笔来书写,动作潇洒飘逸。而同样是用动物的毛发来制作书写工具,中国的毛笔则有着全然不同的风采——它选择了动物毛软而韧的部分,可以写出千变万化的字体,记录了中国不同时代的事、不同性格的人。

In movies and TV plays, ancient Europeans were seen writing elegantly with a quill pen. While animal hair is also used to make writing tools, Chinese writing brushes have a completely different style. By choosing the soft yet resilient parts of animal hair, Chinese writing brushes are capable of writing a variety of fonts. Such brushes have recorded events in different times and people with different personalities in China.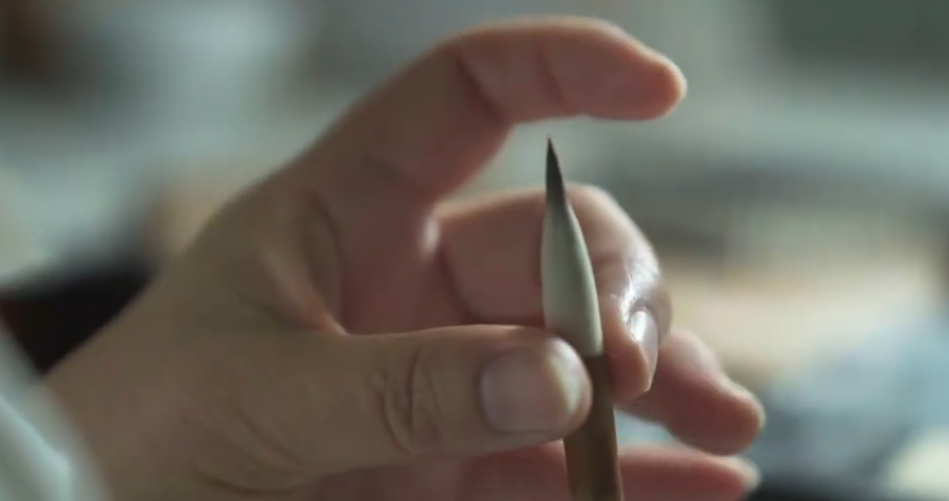 我们都以为商朝的文字只有甲骨文,事实上考古文物证明,当时的中国人就已经在使用毛笔写字了,只是因为不如刻在坚硬骨头上的甲骨文好保存,才遗憾未能让今世的我们见到。
The Shang Dynasty (1600 BC to 1046 BC), the earliest ruling dynasty of China, are known for its inscriptions on bones or tortoise shells. But archaeological relics proved that Chinese people were already writing with brushes during that period. It is only because they are not as good to preserve as inscriptions on hard bones that we cannot see them today.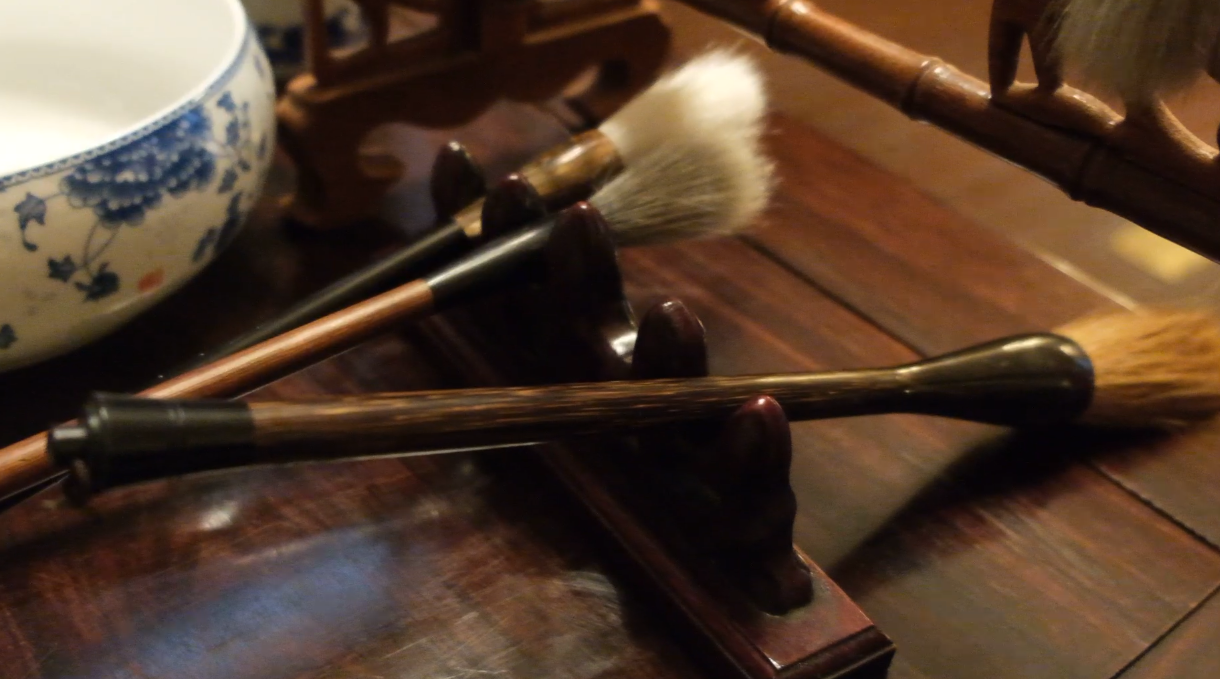 而如今我们常见的这种毛笔,相传是由秦朝负责监督修长城的将军蒙恬改良而成——真正的文武双全!蒙恬"用枯木为管,鹿毛为柱,羊毛为被"。后来,他曾居住在今天的浙江省湖州市善琏镇,在那里他继续改良毛笔,采用兔、羊细长而尖的毛,制成后来举世闻名的"湖笔"。
This kind of writing brush, which is common to us, is said to have been upgraded by Meng Tian, the general in charge of supervising the construction of the Great Wall in Qin Dynasty (221 BC to 207 BC). Meng was indeed a cultured military talent.
Meng was said to use dead wood as the pen holder, deer hair as the central wool column, and wool as the surface layer. He later lived in what is today's Shanlian Town, Huzhou City, east China's Zhejiang Province, where he continued to upgrade the writing brush, using the slender and sharp wool of rabbits and sheep to make the Huzhou writing brush as is widely known today.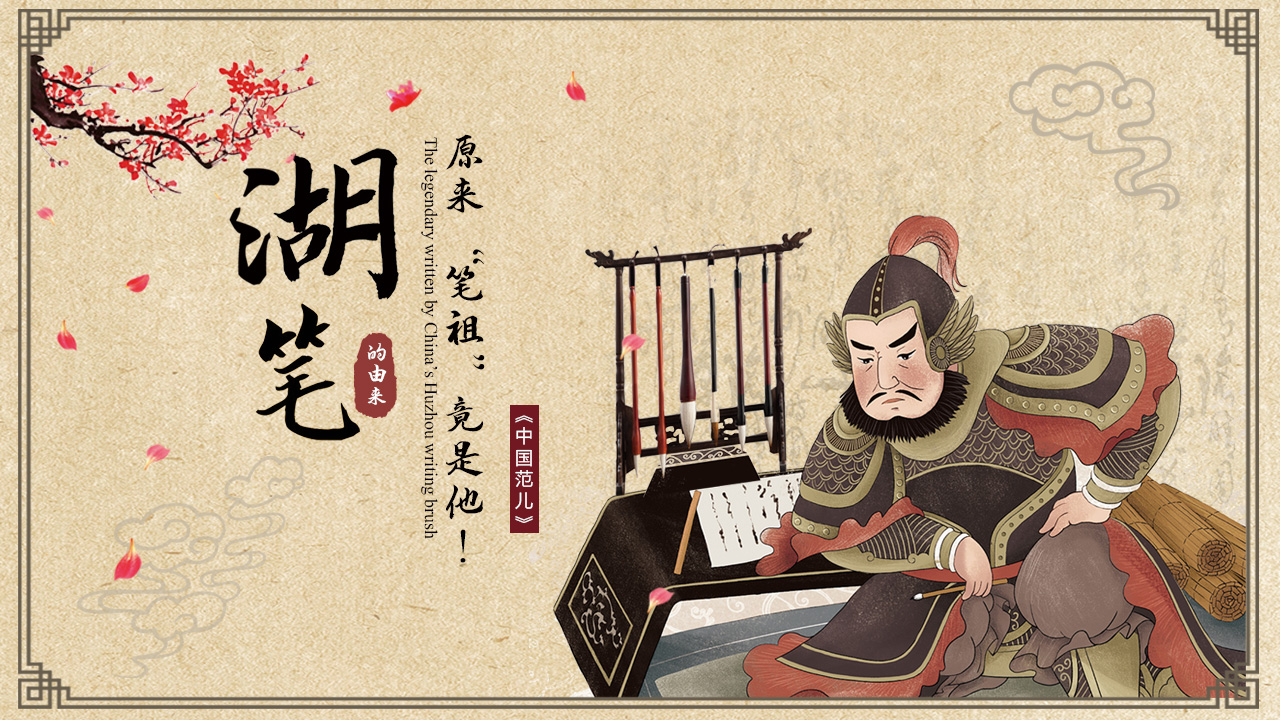 将军把技术传给了湖州百姓,现在这里几乎家家会制笔。人们把蒙恬奉为"笔祖",感谢他为当地百姓带来的谋生技艺,更感谢他为中华民族文化的传续做出的贡献。
The general passed on the craft to the locals of Huzhou, where almost every family can make brushes. They regard Meng Tian as the inventor of Huzhou writing brush to show their gratitude to him for teaching them the bread-winning craft and his contribution to Chinese culture's continuation.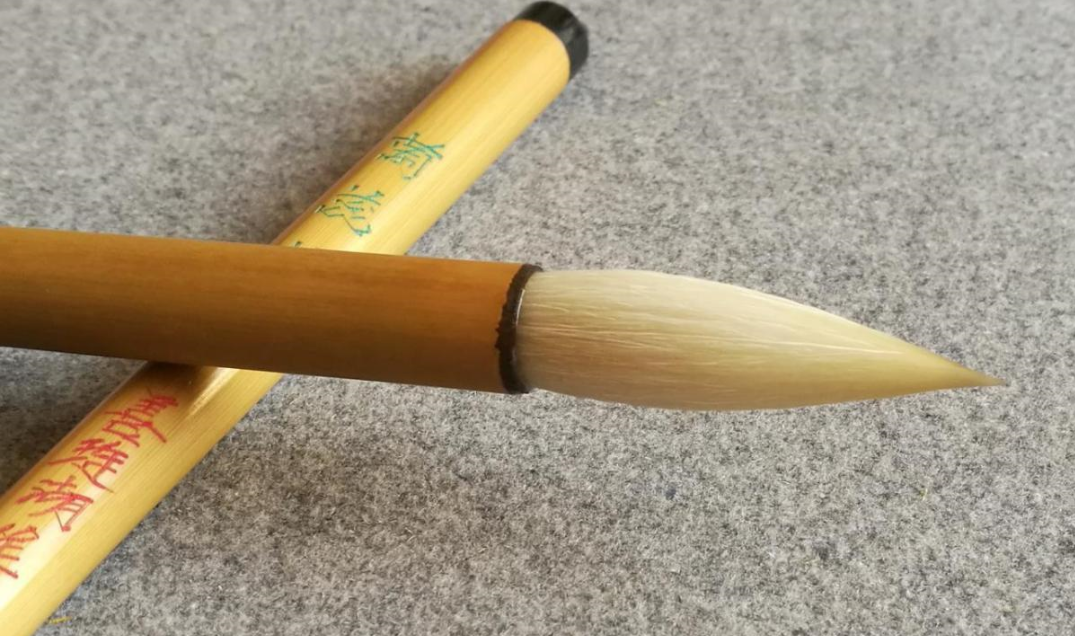 湖笔的特色是"尖、齐、圆、健",这同时也是中国最好毛笔的标准——笔毫聚拢时,末端要尖锐;笔尖压平后,笔毛要齐,没有参差长短;笔头要浑圆饱满;笔毛要有弹性,重压后提起,即刻恢复原状。
Huzhou writing brush is sharp, neat, well-stacked and resilient, representing the top quality of Chinese brushes. When the brush hairs gather together, the end should be sharp. After the nib is pressed flat, the hairs should be neat without uneven length. The pen should be well-stacked while the pen hairs should be elastic and can be immediately restored to its original state after being pressed.
"千万毛中拣一毫",湖笔取材主要是羊毫、紫毫(野兔背上的紫黑色毛)、狼毫(黄鼠狼尾巴上的毛)和兼毫(取软硬两种毛拼在一起而成),长短、粗细、色泽,各有不同。湖笔制作要经过128道大小工序,包含拣、浸、梳、落、拨、挑、抖、绞、连、装、择、刻等。除刻字外,没有一道工序可以由机器来代替,只能纯手工完成。
A qualified hair is hard to find. Huzhou writing brush is mainly made of sheep hair, purple-black hair on the hare's back, black hair on the weasel's tail and hard and soft hair combined together. The hairs have different lengths, thickness and colors. To make a qualified Huzhou writing brush, it has to go through 128 steps, such as selection, dipping, combing, screening, shaping, bundling, matching and loading of pen tip and pen holder, polishing and engraving. No steps except for engraving can be replaced by machines.
正是如此精细的技艺,才造就了毛笔能轻柔能刚劲、能书能画、能行草能小楷、能工笔能写意、能勾勒线条也能晕染挥洒,让中国书画成为了一门艺术。
It is such fine skills that make the writing brush gentle and vigorous and capable of both writing and drawing. With the Huzhou wring brush, one can write and paint in different styles and manners, making Chinese painting and calligraphy an art.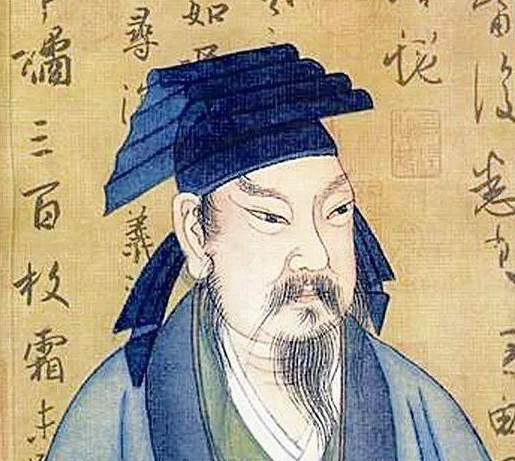 湖笔也让文人墨客痴迷,王羲之不爱金银琉璃象牙的"奢华"笔杆,独爱湖州盛产的轻巧的竹子为杆,人称天下第一行书的《兰亭序》就是用湖笔书写而成。
Huzhou wring brush also fascinate literati. Wang Xizhi, the most celebrated of Chinese calligraphers in the ancient times, did not fall for the luxurious penholder made by gold, silver, glass and ivory, but preferred the light one made by bamboo abundant in Huzhou. With the Huzhou writing brush, Wang created the "Preface to the Poems Composed at the Orchid Pavilion". Written in semi-cursive script, it is the most well-known and most-copied piece of Chinese calligraphy.
2006年,湖笔入选国家非物质文化遗产名录。在圆珠笔普及的现代、在键盘化的今天,毛笔的刚柔并济依然无法替代,它仍在书写着中国文化的品格与力量。
In 2006, the Huzhou writing brush was added to China's list of intangible cultural heritage. Despite the popularity of ballpoint pens and keyboards, writing brushes are still irreplaceable with its combination of rigidity and softness, which are still writing the personality and strength of Chinese culture.

.