.
每年农历七月初七,是中国传统的七夕节。
Qixi, the Chinese valentine's day, falls annually on the seventh day of the seventh month in the Chinese lunar calendar.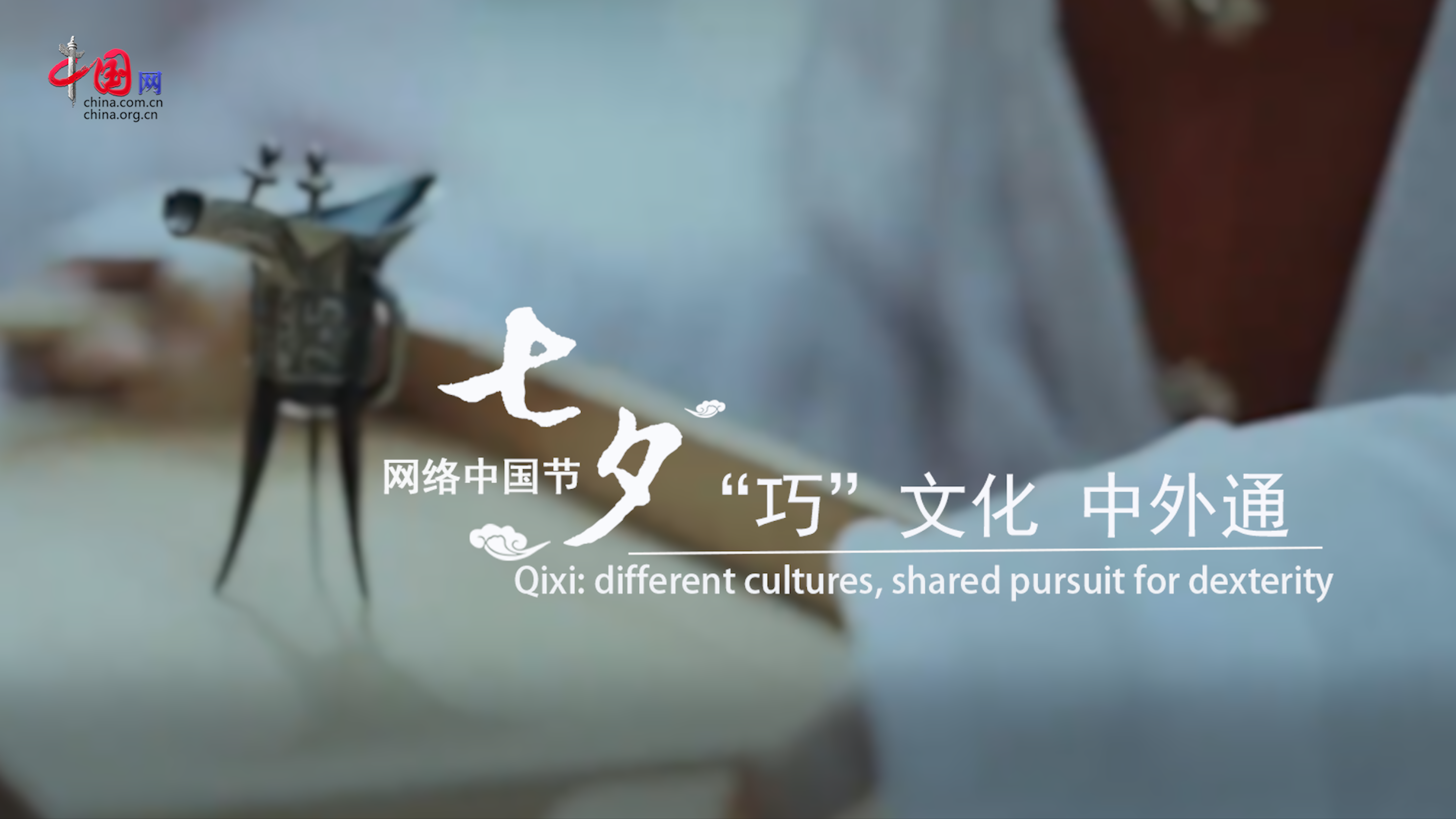 七夕节又被称为"乞巧节",这一天,尤其是在中国古代,女子们向纺织女神"织女"祈求智慧,传授给自己纺纱、织布、缝衣的手艺,希望自己变得心灵手巧。在我们往期节目中,也有介绍过京绣、苗绣、黎锦等等,这都是体现女子针线活了得的手工艺术。
Qixi is also known as the festival to "pray for dexterity". On this day, especially in ancient China, females would pray to Zhinu, the goddess of weaving, wishing for wisdom and dexterity in skills like spinning, weaving and sewing. In our previous programs, we introducedJingxiu (Beijing embroidery), Miao embroidery and Li brocade, whose techniques all reflect the dexterity of females.
在世界上很多国家的节庆活动中,特色的刺绣也常常是重要装饰品和重头戏。例如印度的九夜节(Navratri),人们相信带镜面的刺绣能够躲避恶魔的眼睛,并为穿戴者反射掉厄运,因此这种镜面刺绣(shisha)成为节庆的必备品。
In many countries around the world, embroidery with respective features are important festival ornaments, sometimes they even play a significant role in celebration rituals. For example, people in India believe that shisha embroidery, a type of embroidery which attaches small pieces of mirrors, could help them dodge the eyesight of devils, while flicking bad luck away. Therefore, shisha embroidery is indispensable during Navratri in India.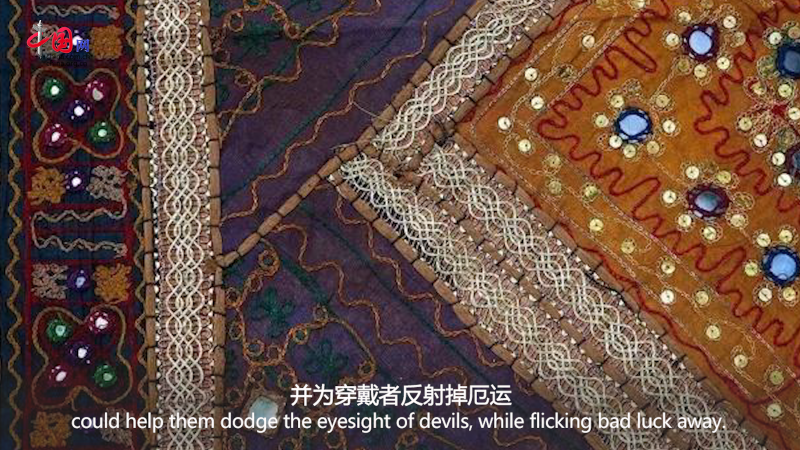 能够制作花式美食也是"巧手"的重要内容。七夕节就有一样特色食物——"巧果",是以油面糖蜜为材料制作的点心。巧果有多种样式,往往还用线穿成一串,给孩子们戴上,希望孩子也能变得灵巧。
Capable of making various gourmet food is also included in the definition of "dexterity". In China, a pastry called Qiao Guo is the traditional food for Qixi. Made from oil, flour, sugar and honey, Qiao Guo come in various shapes. People usually string these pastries together and put them around children's necks, wishing the kids would grow dexterous too.
世界各国的节庆文化中,也总是少不了一道独特的甜品,代表着对于幸福、甜蜜、好运的共同追求。
Unique desserts are a crucial part in many countries. Though cultures vary, people share their wish for happiness and good luck via such desserts.
古代乞巧节的活动还有很多,例如喜闻乐见的"喜蛛应巧"——将小蜘蛛捉住,放在小盒子中一整晚,第二天用蛛网的疏密来检验"巧多"还是"巧少"。女子们还会做"穿针乞巧"的游戏,在月光下妇女以五彩丝缕穿七孔针或九尾针,先成者谓之"得巧"。
In ancient times, people had many other activities to celebrate Qixi. For example, girls would catch a little spider, keep it in a box for a night, and see how well it would weave — if a rather dense net was weaved, it means the prayer would be blessed with more dexterity, and vice versa. Girls would also thread needles to pray for dexterity: In the moonlight, whoever first finishes threading a seven-holed or even nine-holed needle will "win dexterity".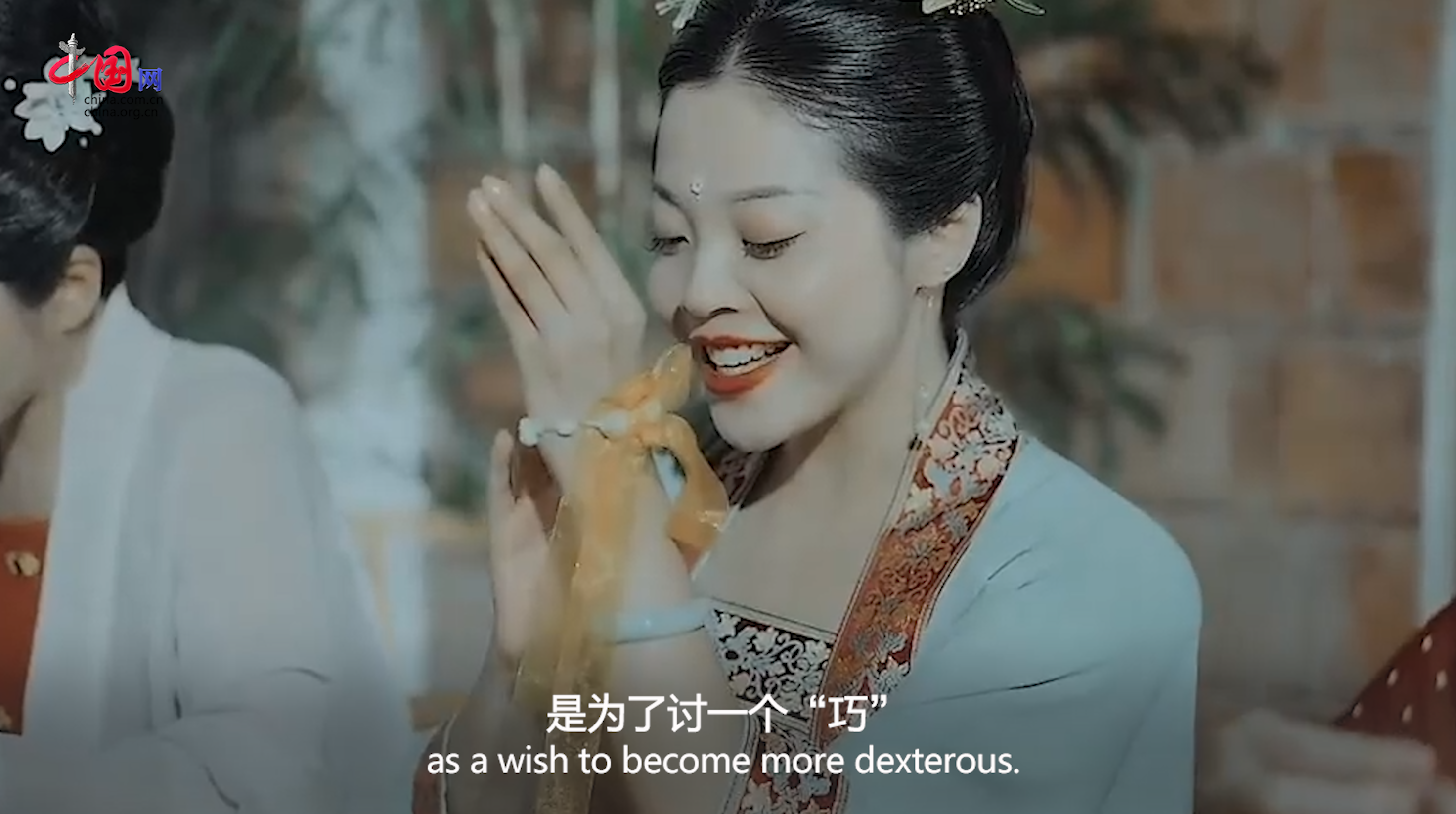 乞巧节,女子围绕针线的各类活动是为了讨一个"巧"。但你知不知道中国还有一个传统节日与之相反,是绝对不能动针线的呢?以后的节目再告诉你吧!
On Qixi, Chinese females do various activities about needlework as a wish to become more dexterous. But do you know that there is another traditional Chinese festival, during which needlework is forbidden? We'll talk about it in future programs!