.
"以青春之我,创建青春之家庭,青春之国家,青春之民族,青春之人类,青春之地球,青春之宇宙,资以乐其无涯之生。"

"With a youthful self, build a youthful family, a youthful country, a youthful nation, a youthful humanity, a youthful earth, and a youthful universe. With such missions, we enjoy a boundless life."
这是电视剧《觉醒年代》里,青年大学生们朗诵李大钊先生的《青春》。
This scene comes from the TV series "The Age of Awakening", where university students in their youth were declaiming "Youth" by Li Dazhao.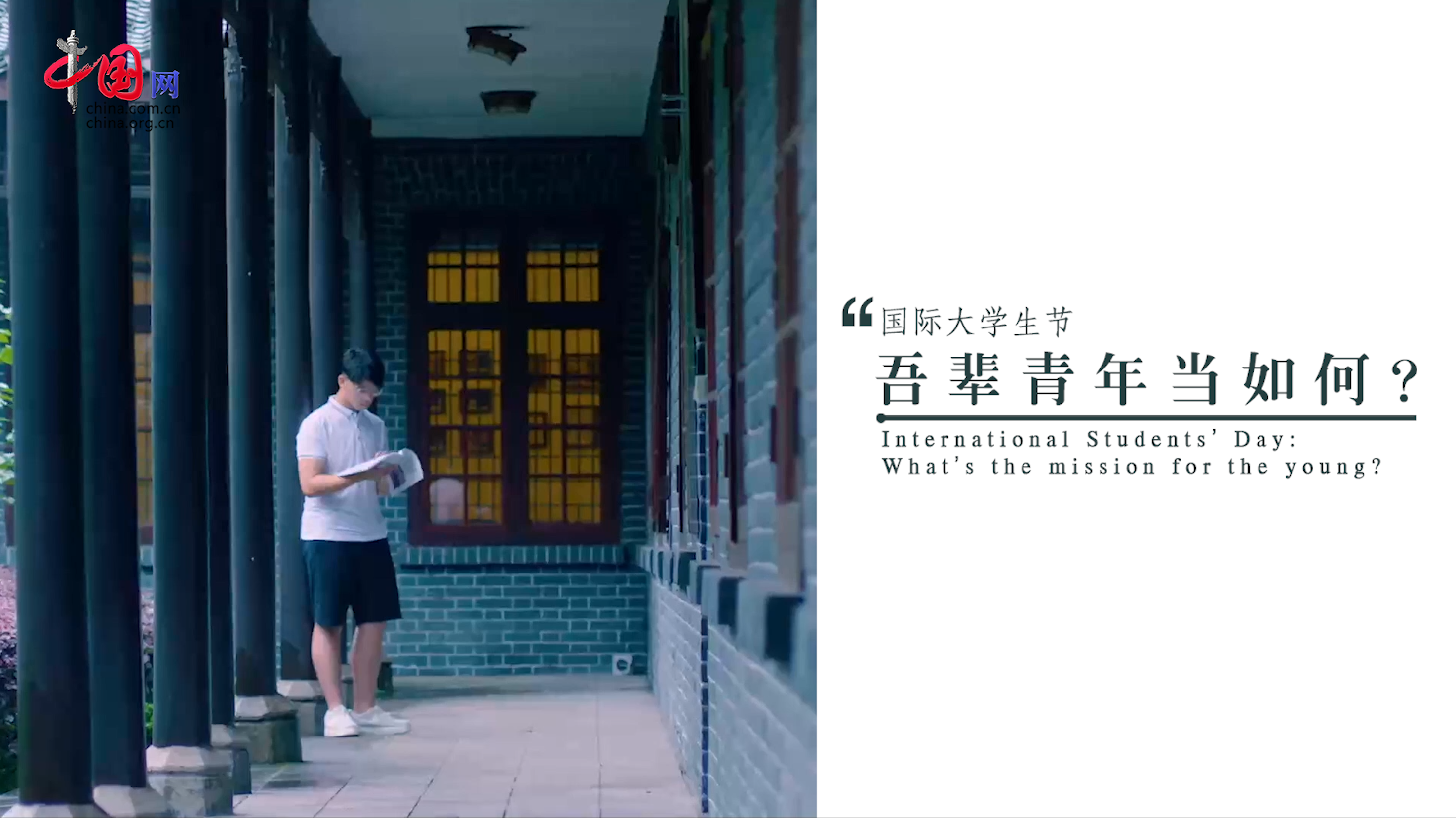 100多年前,中国青年的使命是一场思想的觉醒;100多年后的今天,恰逢第77个"国际大学生节",作为新青年一代,我们又当肩负什么?为了什么?做些什么?
Over 100 years ago, the mission for Chinese students was the awakening of thoughts; over 100 years have passed, now at the 77th International Students' Day, what should we shoulder as the new generation? What for? And what to do?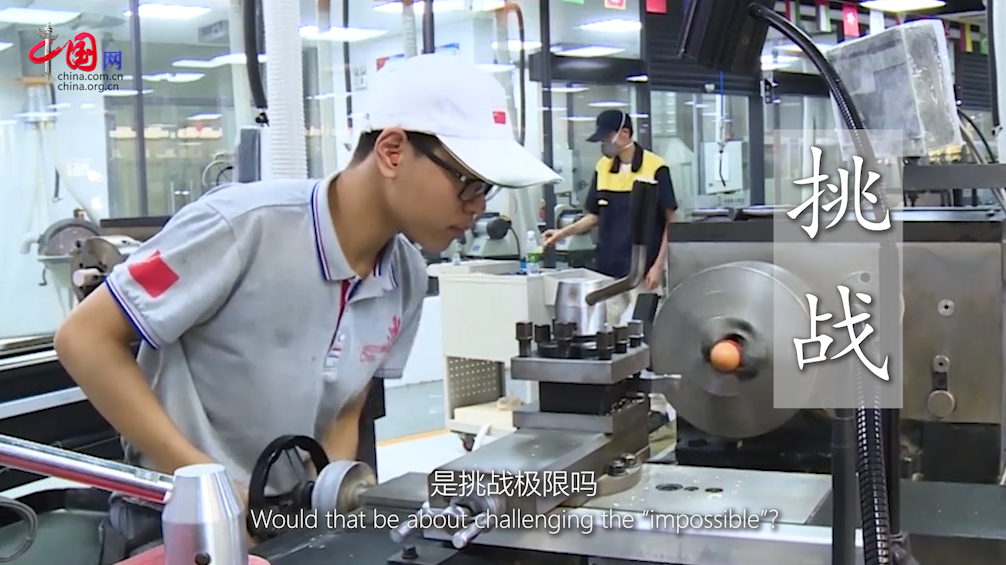 是挑战极限吗?高速旋转的生鸡蛋,慢慢靠向锋利的车刀,蛋壳被一点点"脱"去,薄薄的内膜却"毫发无损",鸡蛋不破、不漏,你敢相信嘛?江苏省苏州技师学院在校大学生邹龙龙做到了。
Would that be about challenging the "impossible"? A fast-spinning raw egg approaches a sharp lathe tool; with the eggshell peeling off, the shell membrane remains untouched and there isn't a single leak. Can you believe that? Well, Zou Longlong, a student from Suzhou Technician College Jiangsu Province made it.
"我必须全神贯注、手眼协调,依照蛋壳外形循序渐进,一旦急于求成,就会功亏一篑。"
"I must stay focused, coordinate my eyes and hands, and make it happen little by little according to the shape of the shell. If I rush it, I'll fail."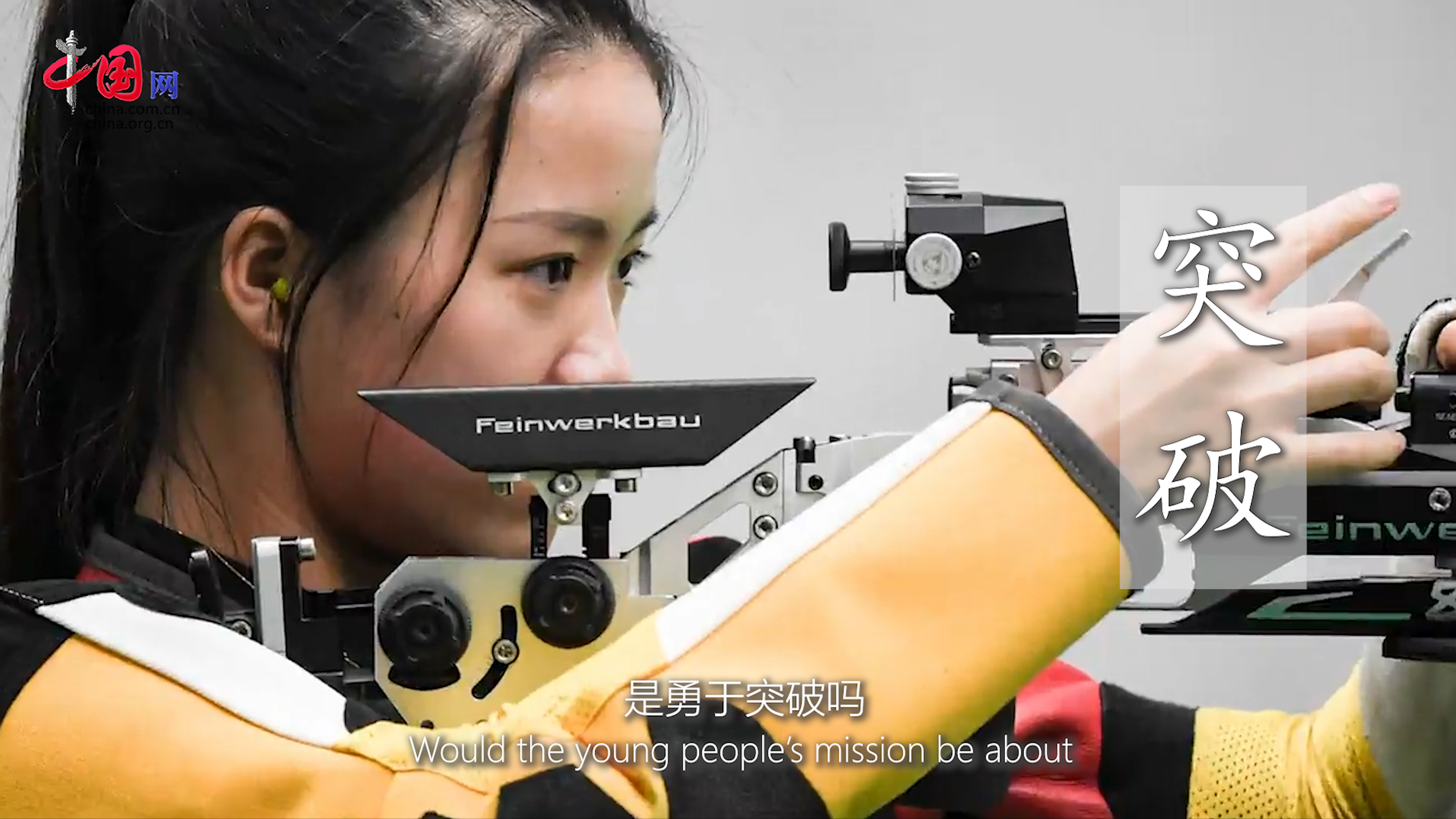 是勇于突破吗?在2021年东京奥运会上,清华大学学生杨倩获得东京奥运会首枚金牌,让大家深深记住了那个头戴小黄鸭发卡,笑眯眯地站在领奖台上比心的女孩......
Would the young people's mission be about the courage to break through? During the Tokyo 2020 Summer Olympics, Yang Qian from Tsing Hua University won the first gold medal of the Games. Standing on the podium, her "yellow duck" hairpin, big smile and arm heart gesture left a deep impression on the audience.
"作为运动员,要耐得住寂寞,因为每一次瞄准,每一次击发,都是在和自己作斗争。"
"As an athlete, I need to stay calm and resist any distraction, because every time I aim at the target, every time I pull the trigger, I'm competing with myself."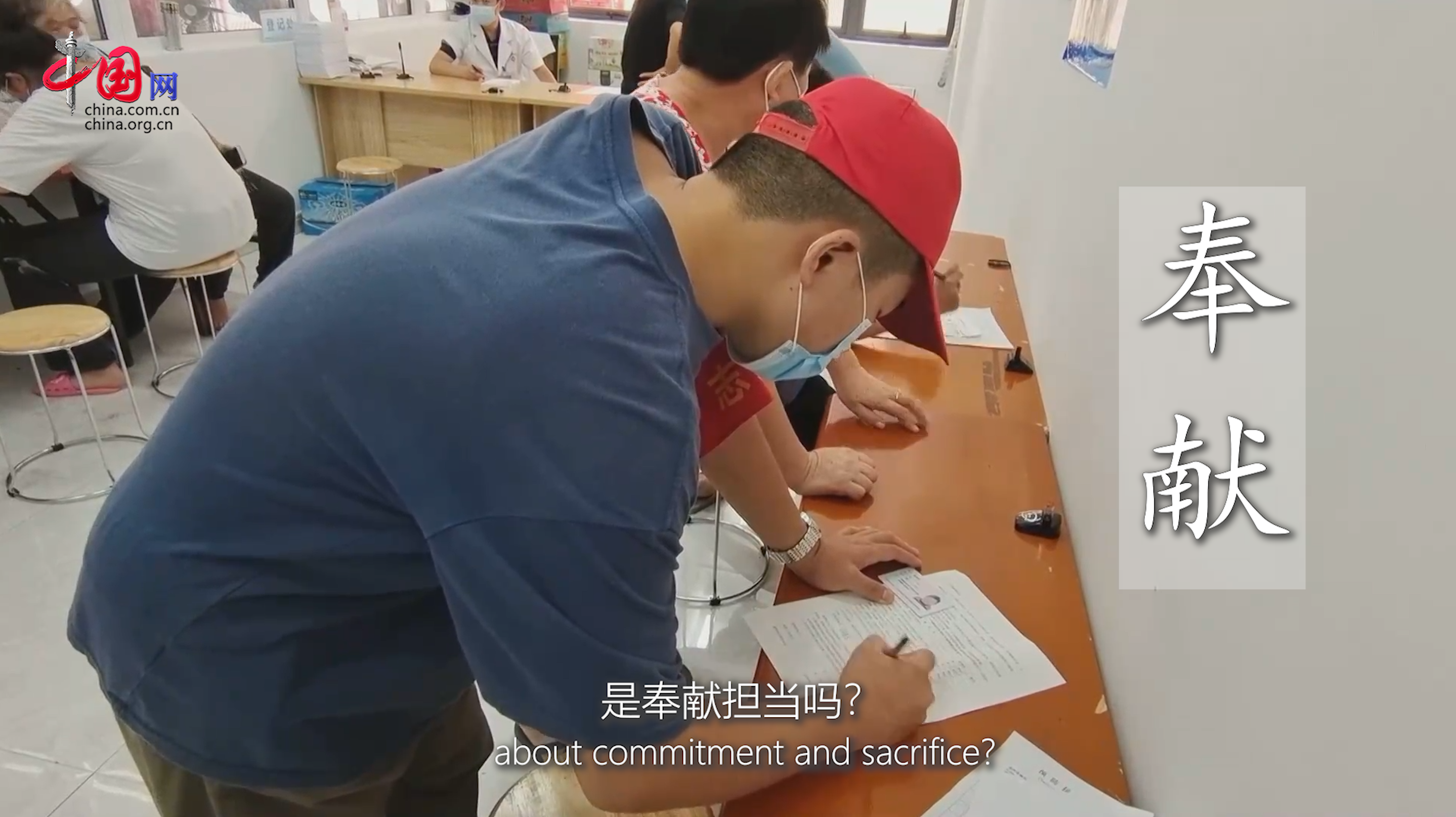 是奉献担当吗?防疫一线中涌现出了一批批青年志愿者,湖南工业大学学生杨诗浩就是其中之一。
Would the young people's mission be about commitment and sacrifice? One after another, young volunteers joined the frontline of the battle against the COVID-19 pandemic. Yang Shihao, a student from Hunan University of Technology is one of them.
"响应国家的号召,要加入到志愿者服务组织中来,要一直秉持着那种但行好事、莫问前程的毅力和决心。"
"Responding to our country's call to join the volunteer team requires persistence and determination. 'Do what is right, come what may.'"
"她需要人,我就过来了。"
"She needs help, so I'm here to help."
同样是在校大学生,李嘉禧也忙碌在社区服务中,行小事暖人心。
Another university student Li Jiaxi also volunteered in the community. Small deeds bring people great warmth.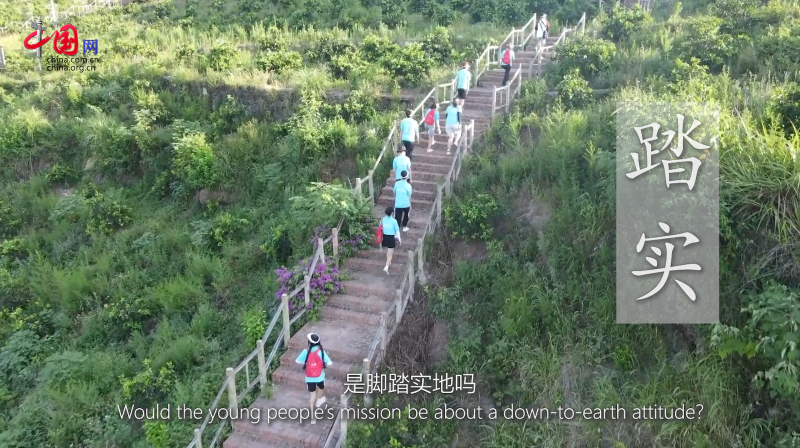 是脚踏实地吗?重庆工程职业技术学院的学生们,去到重庆市北碚区三圣镇天宫村进行学习实践,拍摄乡村宣传片,帮助当地进行宣传推广。刚从校园走向社会不久的李帅颖,投身乡村建设中来,用艺术点亮村庄,成为推动乡村振兴的"新农人"。
Would the young people's mission be about a down-to-earth attitude? Students from Chongqing Institute of Engineering went to Tiangong village, Sansheng County in Beibei, Chongqing for their field study project. They filmed videos to help promote the village. Li Shuaiying, who is recently graduated, also devotes herself to the building of rural areas. Lighting up villages with art, she has become a "new rural talent" who contributes to rural revitalization.
"我们打造这个'农家大院',有石磨、大锅、共享菜园、小动物饲养等各种农耕元素,让周边城镇的家庭,也能体验一日'向往的生活'。"
"In this 'grand farm house' we built, we have millstones, giant cooking pots and shared vegetable garden, we also feed animals… These rural elements enable those families in nearby towns and cities to enjoy a day of 'Back to field' experience."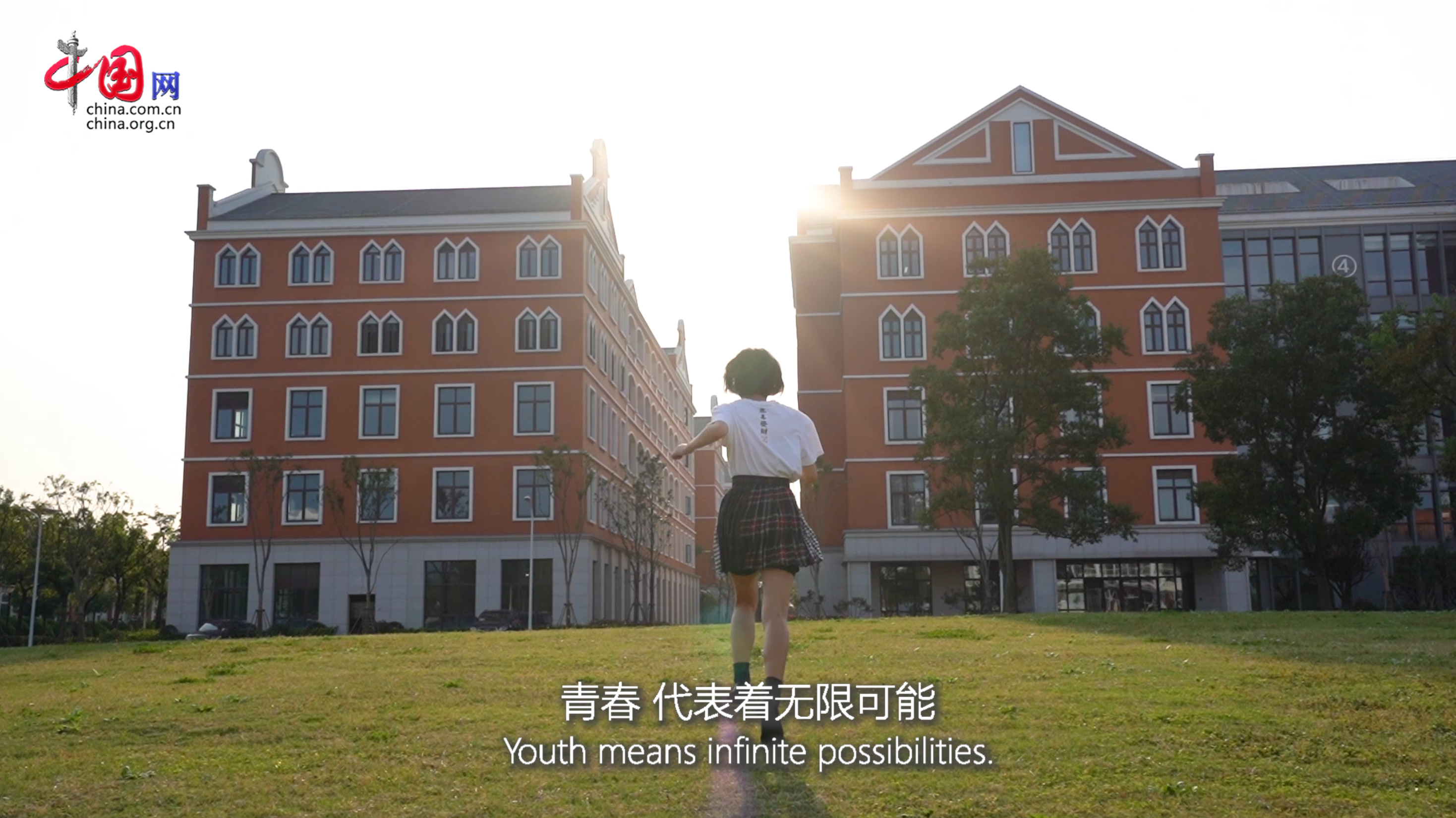 青春,代表着无限可能。站在100多年后的今天,我们依然看得到青春的力量、赓续的精神、传承的理想,以青春之我创建青春之"新"中国,青春之"新"人类,资以乐其无涯之生。
Youth means infinite possibilities. Even today, over 100 years have passed since Li Dazhao's time, we could still see the strength of the youth, the continuation of the spirit and the inheritance of ambition. With a youthful self, build a "new" youthful China, and a "new" youthful humanity. With such missions, we could enjoy a boundless life.